Requested by BloodRoseRed
After surviving a house fire that murdered her parents, young Alice finds herself locked up in an asylum.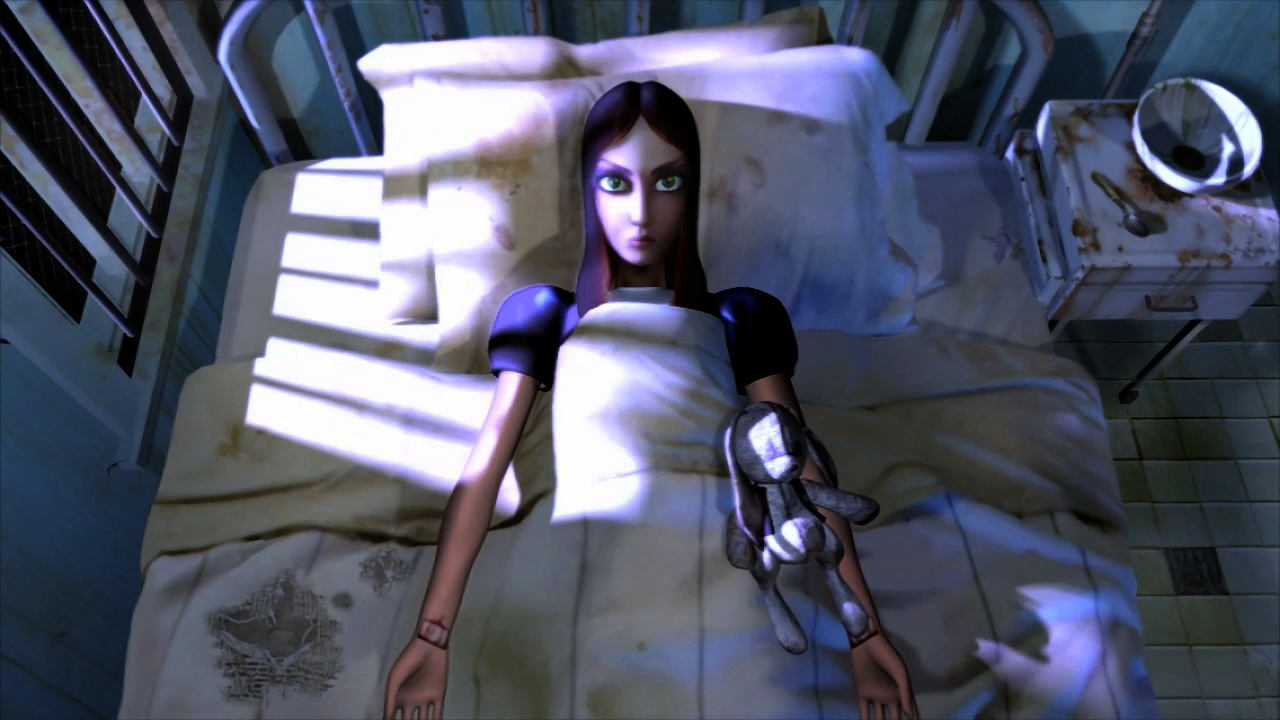 Her only escape is through the mythical Wonderland, corrupted by her own experiences. Now she must fight her way through an evil land in order to reclaim her own sanity.
Those of you who've watched the Disney movie will be in for quite a shock.  It's definitely not the Alice in Wonderland from your childhood. However, the game is also not a darker re-telling.  It takes place after the events of Alice's Adventures in Wonderland and Through the Looking Glass. Therefore, it's more of a sequel to the original events, which I think works in its favor.  In the past, Wonderland has always been a place of mythical adventure that Alice could escape to when life became too much for her. Which, considering the first book ends with the Queen of Hearts wanting to chop off Alice's head, wasn't that happy go lucky either.  Now that tragedy struck Alice and she's in a Victorian Asylum, which was not a place you wanted to be sent to, she needs this one escape to cope with her situation. The beautiful Wonderland she knew and loved transformed into a twisted nightmare due to her own experiences.  However, even in this hell Wonderland transformed into, Alice still has friends in the form of the Cheshire Cat, The White Rabbit and The Griffin.
They're the ones that help her through this nightmare world and guide her on her quest.
As I said, the game is a gritty sequel to the Alice in Wonderland books.  I first saw it at a store when I was in Middle School but, since I wasn't old enough, I couldn't get the game. I'll admit, I thought that it was just a tale of needless violence thrown in to make a beloved children's classic cooler and more adult.  Then BloodRoseRed requested me to review both this and Alice: Madness Returns and, I'll confess, I was happily wrong. Yes, this is more violent than what you'd expect from something set in the Alice in Wonderland universe.  However, it's not needless violence thrown in to make the game cool, as is often done in these situations. The game explores deep elements such as mental illness, trauma, and survivor's guilt. When Alice was seven years old, she witnessed her family die in a fire and was too busy having a make believe tea party to pay attention to what was going on.  Minor spoiler alert, her guilt manifests in Wonderland as villains, such as the Jabberwocky and the Red Queen, as they call Alice a selfish and spoiled girl. According to them, she didn't deserve to survive and, if she had paid attention, she could've warned her parents and saved them. These are feelings Alice has herself echoed through the words of the game's villains and, in order to conquer them, she has to kill the villains that represent her guilt.  This is actually very symbolic of her fight to keep her sanity and it's something that the game play reflects, which I will discuss in a later paragraph.
The game comes with an instruction manual that has a diary of one of the doctors of Rutledge Asylum giving his accounts of treating Alice in the real world while she battles her own metaphorical demons.  Unfortunately, the copy of the game I bought didn't come with a casebook, so I had to look it up on the game's wiki, which you can read here. I'm sure many of you who know the history of Victorian Asylums think the doctor is some sadistic man deriving in the torture of an innocent young girl.  I actually have a book called Women of the Asylum and it documented cases of women who refused to submit to the patriarchy finding themselves committed to the asylum for a mental illness.
However, this is not the case.  The doctor is actually a caring man not sure what to do about Alice's condition.  He talks about how he had to treat other patients and seems remorseful that the treatments result in death far more than they do in curing mental illnesses.  Little by little, this becomes normal to the doctor but he still wants to do his best to help the people in his care, even if the "treatments" are barbaric by today's standards.  Yes, Asylums in Victorian London were hell on Earth, but the Asylum was a recently introduced concept to curing the mentally ill. Many of the horrors were less from evil and more from the ignorance of the time.  It doesn't make it any better and I'm sure it's making Alice's mental illness worse, but it does make us more understanding. In addition, you can tell that the makers of the game did their homework when writing the book, even if they did get one detail about Victorian London wrong in the game, which I'll discuss later.  You also get to see the difference between Alice in Wonderland who, in this version, is a real badass you don't want to mess with, and the Alice in the real world, who's a passive patient. The doctor is actually rooting for Alice, even if a part of him wants her to stay in the Asylum with him.
The game takes place entirely in Wonderland with only a few mentions of the real world. In it, you take control of Alice who must defeat the corrupted and nightmarish versions of the Wonderland characters we know and love.  These enemies represent Alice's insanity trying to consume her and she must destroy them to keep what sanity she has left. Like many games, this one has an HP bar and an MP bar.  The HP bar represents her sanity, which she regains by killing enemies such as the playing cards that attack her and must consume the essence they leave behind. Try explaining that to a psychiatrist and see if they don't put you in a home.  The MP bar is for magic you need to defeat the enemies but, thankfully, the essence found throughout the game to restore HP also works for MP. Boss's have their own level and they must be defeated if you want to advance through the game.
However, Alice is not alone as she has friends who guide her throughout her journey that represent her sanity.  One conversation she has with the Cheshire Cat about taking Gym Class contradicts schooling in Victorian London, due to not having Gym Class back then. They had Drill Class, which was the closest you could get, and it was for boys. Girls whose parents were rich sent them to Finishing School to learn how to become proper ladies and there was no Drill Class for them.  Still, historical inaccuracy aside, these conversations and help she has from those few friends represent what little sanity she has left. Spoiler alert, these characters die trying to help Alice, which feeds into her own survivor's guilt about how she should've died in the fire with her family. It also shows that, for a brief moment, Alice's insanity is winning. Having the Jabberwocky and the Red Queen accuse Alice of being selfish and spoiled represents the most powerful obstacle that Alice has to overcome if she wants to rejoin society, her guilt.  So, in many ways, the game play is made almost entirely of symbolism, which is actually very creative. You can also collect weapons throughout the game and complete puzzles in order to advance through the storyline. The most powerful weapon is the Jabberwocky eye staff, which you can use to beat the final two bosses, but my favorite for dealing with the regular enemies is the Ice Staff.
It knocks them out just like that. The puzzles can also be difficult and, more often than not, you'll find yourself consulting a walkthrough.
As for the horror element the game tries to represent, I admit that I didn't really find it that scary.  I found it interesting from a psychological perspective, as I already discussed, but I wasn't really trembling in my seat.  I did find myself on edge when I managed to play it at night but the only incident that made me slightly jump out of my seat was when a fish pops out of the lake and eats you.  Then again, I am a tough sell and I haven't been properly scared since the recent IT movie.
This game is intriguing and fun.  I give it 9 out of 10, a creative take on a classic story and mental illness that really made me think.