When Emily was three, her grandfather went on a voyage at sea never to return.  Now, he's back and he's lost his memory.  Can a family reunion be enough to restore the memories of Emily's grandfather?
Yes, it's the old amnesia cliché favored by soap opera writers.  Let me tell you, that's not the only cliché in this game.  Another common theme is about getting what you want rather than appreciating what you have.  In this game, you get to go to Italy and meet Edward's brothers.  I should tell you that, in the beginning of the game, Emily's grandfather gives each of his sons a silver dollar to start making their fortune.  Edward's bitter because he never started a restaurant empire with his dollar, even though Evelyn reminds him that he has a loving family and is a great provider.  I do like that, when Edward tells Evelyn that anyone can do those things, she told him the truth that they can't.  Since I know people who fail as family providers, she couldn't be more right.
As for Edward's brothers, one opened a seafood shop yet has trouble getting good catches.  Another runs his own farm and socializes better with animals than humans.  The final one opened a vineyard and fired his workers, replacing them with machines.  When Emily and her family visit each restaurant, they fix things by teaching the fisherman how to be patient and wait for the big catch.  They also teach the farmer the value of working with others.  Finally, they teach the winemaker to brew his own wine instead of making cheap wine that tastes like shoes in order to make himself more money.  Though I don't get how the third brother is rich if his wine tastes terrible.  Then again, Taco Bell still manages to stay in business, so maybe it's not beyond the realm of possibility.  Anthony only makes one mention of how he spent his dollar and references his son from Delicious 2.  So the series hasn't entirely forgotten Anthony's son, they just don't add him as a regular to the cast.  I forgot to tell you that, before Emily's grandfather left, he tells his sons that their mother to put a special ingredient in all of her food that made her a success.  Anyone familiar with this cliché knows that the secret ingredient is love, but the game insists on stretching it out into one huge and unnecessary mystery.
The game play is typical of any Delicious game with Emily serving both standing and seated customers in each restaurant.  You deliver the food they want, check them out and, in the case of seated customers, clean the tables.
There is one issue I have with the last part. However, I'll admit that it's rather minor.  When you clean the tables by yourself, you see a sparkle effect.  Eventually, you get a cleaner but the said effect is gone and, let me tell you, I love that effect.  Try to get three stars on each level and don't forget to purchase upgrades in-between levels.  You also have special challenges to complete, a mouse to catch and, the more products you use, the more you unlock.  The special challenges will give you diamonds that you can use to invite various characters to the Delicious family reunion.  The only one absent is Angela, but Emily explains that she's in New York participating in the contest shown in Fabulous: Angela's Fashion Fever.
You can also collect trophies and read the notes left by various real life Delicious fans and, let me tell you, the notes are very heartwarming.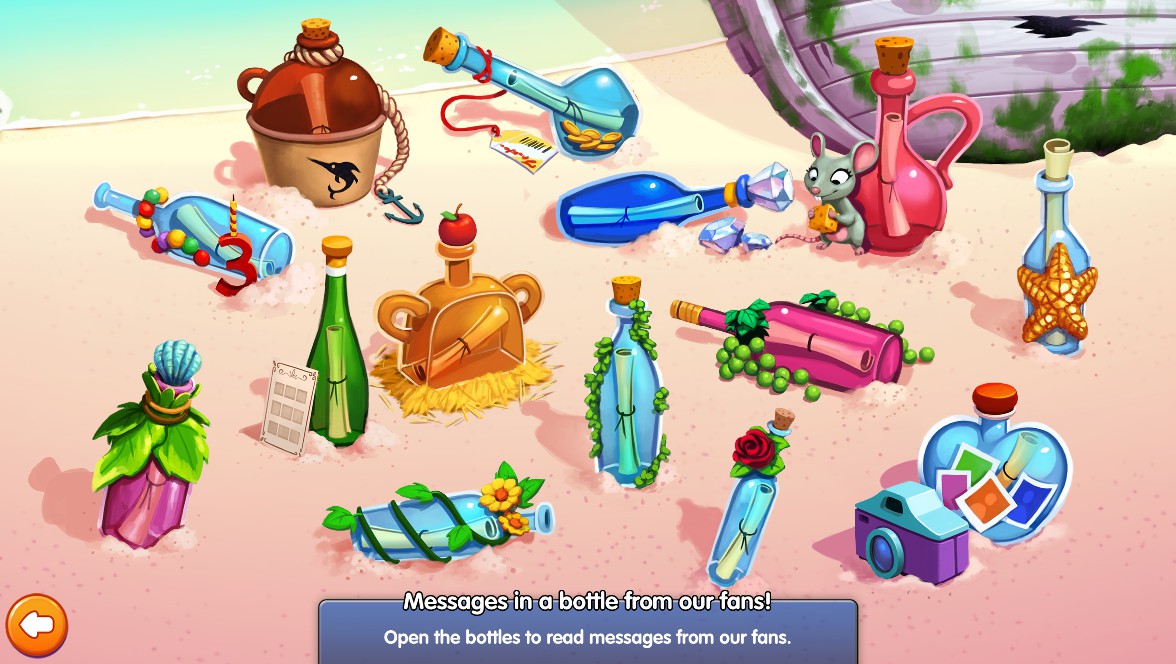 This game is fun but doesn't really sound out.  I give it 6 out of 10, a good distraction wrapped up in a cliché plot.