When high school students come to Victoria's shop for prom dresses, it causes Angela to flashback to her own disastrous high school affair.  Now she wants to make up for it and that's by having her own high school reunion.  Can Angela make up for her own terrible prom, or will the reunion be every bit as disastrous?
Anyone who's even glanced at this game on Gamehouse's website knows that Angela will end up in prison.  The spoiler is how she gets there, which I will discuss.  Let me say that it's not entirely Angela's fault, 'not entirely' being the key words.  Angela gets herself into this predicament by wanting to throw a reunion so badly that she uses the old rundown school building to have the party.  The building is a safety hazard as Angela's sister, Emily, points out.  However, another fellow student, Janet, claims that her father gave them permission to have their reunion in this very building.  Janet is Angela's former rival for Prom Queen and current rival for Reunion Queen.  Angela's hatred for Janet is so great that she tries to cancel the reunion because of not wanting Janet to ruin her good time.  It gets so bad that Angela carries an idiot ball by telling Janet that she's canceling the reunion.  You can bet that all this will do is encourage Janet to take over and that's exactly what she does.
I'll admit that high school is a subject I know very little about.  My parents had me home schooled after I graduated from middle school in order to spare me from what they call 'their terrible high school experience.'  Neither one of them have ever been to their reunions because they claim that, when you do, it's back to the old pecking order.  The people who attend are either reliving their glory days or trying to rub their success in the face of everyone who picked on them.  The only people who attend and leave happy are the former.  In the case of Angela and Janet, I said that their prom blew up in their face.  However, I didn't explain how this happened.  I did tell you that they both competed for the title of Prom Queen.  As the alpha bitch of Snuggford High, the students favored Janet as Prom Queen.  Angela decided to run against her due to Angela and her friends wanting to become popular in high school.  Janet went so far as to manipulate two brothers against each other to ruin Angela, something that backfired on both of them.
Those who follow me remember when I talked about the double standard in the last Fabulous game, which the characters address but the story never fully discusses. Well, this one takes it a step further due to not addressing the double standard in this game.  As I said in the last paragraph, Janet played two brothers against each other in order to become Prom Queen.  However, what I didn't explain is that Janet dated the popular brother, Matt, first.  Keith, the unpopular brother, would make moves on Janet while she dated Matt.  Keith clearly sees Matt as the evil brother and Janet as the sweet victim that he must rescue.  However, he doesn't see Janet as a person as much as a trophy.  Keith ingrains himself so deeply in his fantasy that he refuses to acknowledge Janet's faults, even when Angela points them out.  In fact, when Angela comes across Janet's pregnancy test, Keith sees it after she leaves and assumes that Angela is pregnant with Matt's baby.  However, instead of talking to Angela about it, he reports Matt to the principal to get him expelled.  When Angela becomes Prom Queen, reveals to the entire school and reporters that she's pregnant.  Angela is not going to take this lying down and says that Janet's the pregnant one, which shuts the school down and, in effect, cancels the prom.
It also shows how unobservant Keith is by not recognizing that Angela shows no signs of morning sickness while Janet displays it on a regular basis.  As for Matt, they never really delve into his character, but the Principal does claim that Matt gets in trouble with the school.  Janet also hints that Matt has a wandering eye, but will always come back to her.  They never explore this, so I don't know if it means that he cheats on Janet or he just flirts around.  He does refuse to help Janet with her election, despite expressing how important the Prom Queen election is to her.
Don't worry, Janet isn't innocent in this either.  As I said, she did play two brothers against each other.  However, one wonders how close those brothers really are if they let one girl come between them.  Anyway, Matt breaks up with Janet because he's tired of how selfish she is.  When she manipulates Keith against Matt and Angela, pretending that she cares for the latter, Janet proves him right.  The years have not changed her as she goes as far as putting her own desires to become Reunion Queen over her daughter, Chloe, wanting to know who her father is.
In the second paragraph, I mentioned that Janet lied about her father giving them permission to use the rundown school building for their reunion.  Yet Janet is so desperate to have the glory days a news report ruined, she lies to Angela and her friends.  However, in all reality, Angela didn't exactly listen to Emily about the place being unsafe due to having the exact same desires as Janet.  The only difference is that Angela doesn't have a kid, so she has more freedom to behave irresponsibly.  This doesn't change the fact that Angela and Janet allowed their own desires to blind them to the danger of the building until it falls apart.  I can't even begin to stress how lucky they are that no one died because of their own selfish desires.
I mentioned that Emily makes a cameo in the game.  She acts as the voice of reason for Angela, who refuses to listen to her.  I'm sure that many of you are aware that Emily is the star of Delicious, and Fabulous is a spinoff starring Angela.  Since Emily is the more serious and responsible of the two, her stories have a more calming narrative.  Angela, on the other hand, is more wild and crazy.  Therefore, her stories have a more wacky narrative.  It definitely shows in this story, with a couple of humorous moments.  Anyway, some people claim that over the top characters can't carry their own story and, sometimes, this is true.  Anyone who's watched the Friends spinoff, Joey, knows what I mean.  However, House and Sherlock are both over the top, yet are quite capable of carrying their own shows.  Despite what many people will tell you, in the writing world, there is no ultimate judge of good and bad.  Writing is an art, which is what makes it unique and, if there's a right way to do it, all stories would be the same and people would get bored.  That's not to say that there's no wrong way to write because, believe me, there is.  As for whether Fabulous is doing well with their over the top main character, I think that they're somewhat succeeding.  Angela is still trying to find her way and, like the last story, she's making mistakes and learning from them.  Some might say that Angela just relearns the same moral she learned in the last game through different events.  This is what TV tropes refers to as Aesop amnesia, and believe me when I say it happens in real life.  There is a problem with Angela's temporary love interests, the first being a cop, the second a model and the third one Matt Miller.  Though temporary love interests are quite common in fiction, Angela goes through these boys without dating the first one and the second one disappears with no explanation.  As for the third one, he does get an explanation in the end with a hint that he might get with Angela later, but I highly doubt it.
The game play is quite similar to many games in the Delicious franchise.  You get the required items, deliver them to the customers and check them out at the register.  Sometimes, you have to clean up after them and, in this game, you get a bonus at the end of the level for it.  Each level comes with a special event and some levels are just extra challenges for you to complete.  This game also features endless levels that really serve no purpose.  It's the same with the challenge levels, because you don't get any diamonds for completing the events.  This is also the only game past Emily's Home Sweet Home where you don't purchase gifts for any reason.  You do get to purchase upgrades for each venue in a style similar to Emily's Christmas Carol.
You also have to catch the mouse in each level and earn trophies in the form of yearbook photos.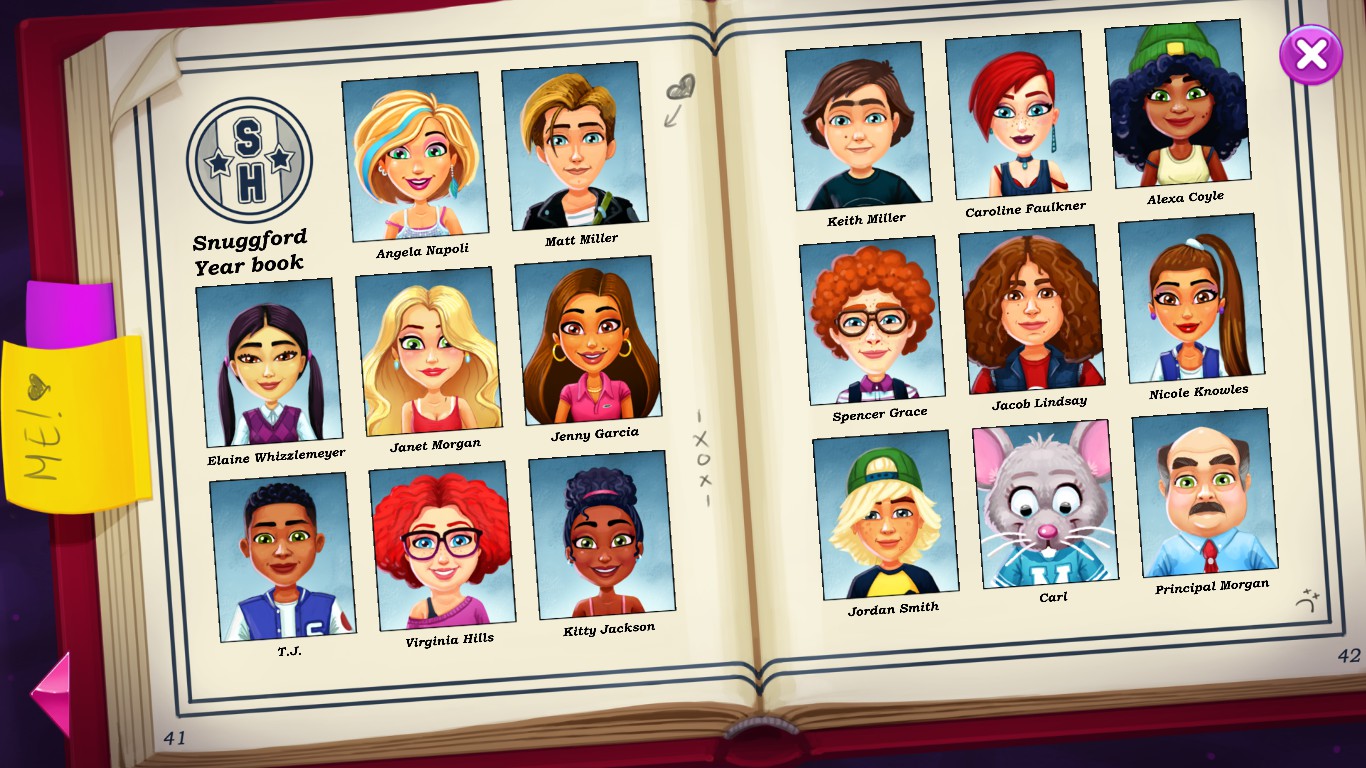 I did find one serious problem with the game play.  Believe me when I say that it deserves its own paragraph.  You know how Emily and Mary always cook in their games, Cathy always makes crafts, Maggie makes movies and Allison saves lives?  Well, Angela's talent is sewing and, this being a Fabulous game, you'd expect her to be making clothes.  Unfortunately, Angela only sews outfits in the first venue.  Most of the game is about Angela and, in the second venue, one of her friends preparing food.
This is a serious oversight and undermines the whole point of Angela starring in this game.  If you're going to have most of the game play be about preparing food, you might as well have made this another Delicious game.  Hell, with a few tweaks, Emily could've been the star of this story with Angela being a side character.
This game is addictive, but pointless.  I give it 7 out of 10, a few good moments but doesn't really feel like an Angela game.